FASHION fox
is a British fashion blog run by women's fashion insiders based in London.
With hot fashion tips, styling, fashion and beauty advice Fashion Fox takes you on an adventure in fashion.
When Liz Black teamed up with Face Lace for her AW14 London Fashion Week collection, it was as though the art, fashion and beauty planets aligned, to bring together a surrealist masterpiece.
The sassy fashion was something to behold. But, it was the curiously whimsical spurts of arty beauty accessories that stole the show for me. As a lover of art, as well as being a professional beauty addict, Liz Black's AW14 show really pushed my passion buttons. Bejewelled lips were cheekily misplaced and black lace appliqued the models porcelain skin. With Salvador Dali as Black's muse this season, she looked to the founder of Face Lace, Phyllis Cohen, to create a bespoke collection of mobile performance pieces. "Phyllis and I had an instant connection. When I first mentioned Dali I saw sparkles in her eyes. We couldn't of understood each other better", explains the designer.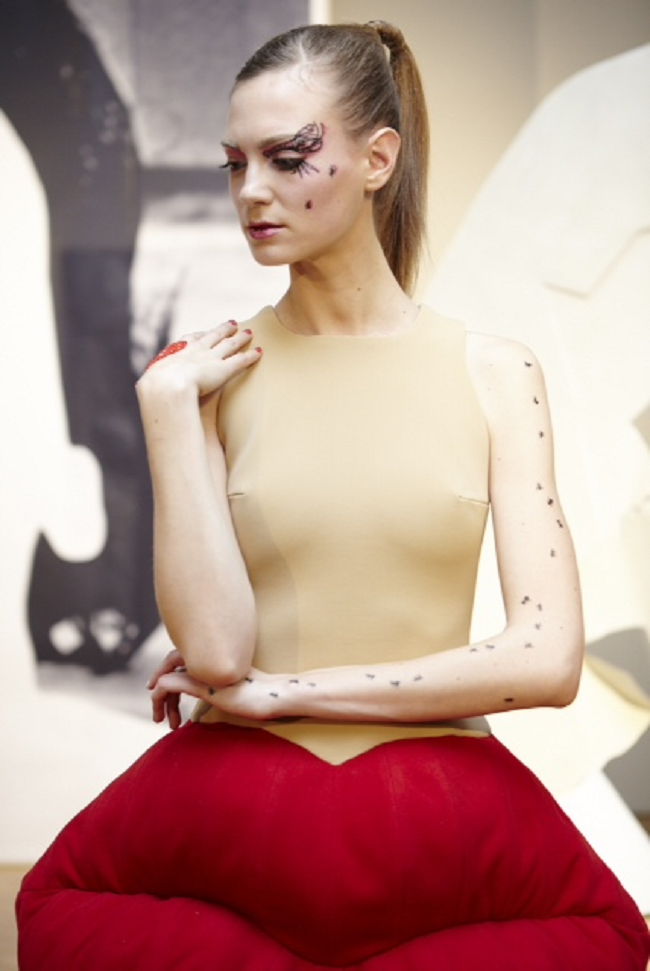 With a fine art theme cropping up all over the globe during Fashion Week, Phyllis Cohen- who has an MA from Goldsmiths college- was thrilled to put her knowledge of fine art to good use. She fashioned the models carefully to incorporate over-sized moustaches, Face Lace bejewelled eyes and red lips with pearl teeth into the performance fashion show.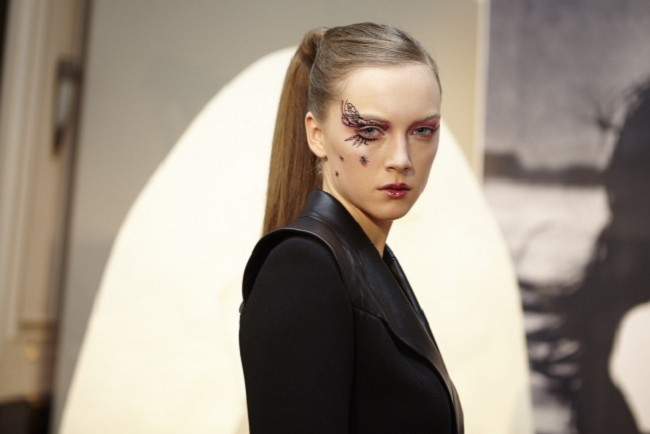 The Liz Black AW14 show wouldn't have been complete without the touch of top makeup artist at The Body Shop, Lan Nguyen. Rich berry lips with a gloss finish and matching toned, full shadowed eyelids proved to be a perfect base for a lick of lace. A shared "symbiotic creative vision" pulled the team together, according to Phyllis.
There's something quite enchanting, mysterious and sexy about confident eyes peeping through lace. So the combination of Face Lace and art inspired beauty, enhanced the strong fashion within the lustrous Liz Black collection.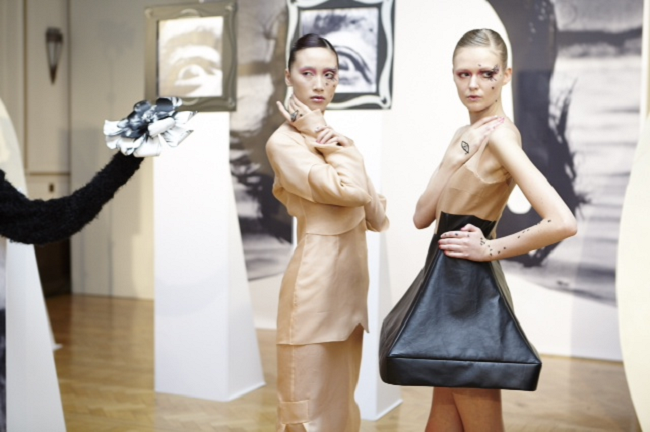 Get The Look
Face Lace is a non-fade, non-smudge range of ready to wear makeup designs. The range includes eye and brow lace accessories and designs range from floral, renaissance and hearts. It's ideal those of you who like to dress up and party, whether you're a Torture Garden regular or heading to a masked ball, it's an easy to apply avant garde look that won't leave you looking like Kung Fu Panda or Robert Smith in the wee small hours of the morning.
Available at www.face-lace.com
<script type="text/javascript"> /* * * CONFIGURATION VARIABLES: EDIT BEFORE PASTING INTO YOUR WEBPAGE * * */ var disqus_shortname = 'fashionfox'; // required: replace example with your forum shortname /* * * DON'T EDIT BELOW THIS LINE * * */ (function() { var dsq = document.createElement('script'); dsq.type = 'text/javascript'; dsq.async = true; dsq.src = '//' + disqus_shortname + '.disqus.com/embed.js'; (document.getElementsByTagName('head')[0] || document.getElementsByTagName('body')[0]).appendChild(dsq); })(); </script>
comments powered by

Disqus
x
Email Post
You can email the Post below to a friend. Simply fill in the form and click send.
Post name: