FASHION fox
is a British fashion blog run by women's fashion insiders based in London.
With hot fashion tips, styling, fashion and beauty advice Fashion Fox takes you on an adventure in fashion.
Kitty N Wong is a fashion designer and fashion illustrator based in Hong Kong, she runs her own blog charting her life through her drawings, her life and loves through the shoes she never wears. Unlike other illustration bloggers Kitty shows her creative process, documenting the state of her art supplies. Her illustrations have been featured in Tatler and she has her own range of clothing and lifestyle products based on her drawings. Hong Kong is rising, it's had a moment to think about its rapid, skyscraper growth and look at the creativity residing within it, the culture, fashion and design that has value beyond just the billions of dollars it makes in the market. Hong Kong is no longer just about sourcing and shopping, its about art and fashion too. We interviewed Kitty to find out more about her Hong Kong Fashion life.
"Hong Kong is an interesting city for fashion, it's very divided between local fashion which is really bright and trend oriented and expat style which is more subdued and a mix between US/Europe looks. I don't really feel like I fit into either, I really like shopping vintage and wearing somewhat mismatched patterns and a lot of time shop assistants will speak to me in Mandarin because they assume I'm from Mainland China. Mee & Gee with branches though out the city is my favourite for cheap vintage and dead-stock here in Hong Kong. I love going to art events in the city most recently we just got our own Art Basel, I get so inspired by the art and by the people watching."says Kitty.
Kitty studied in fashion and illustration in Canada but decided to return to Hong Kong: "I've actually had a bit of a unique experience in Hong Kong, it's known has a bustling crowded city (and it is!) but I've been recovering from thyroid Grave's disease and have been doing some quiet recuperation so what I love about this city is that it's afforded me time to work on my art and to be close to my family." Now fit and well Kitty works hard at her illustration: "I've been focusing more on my freelance illustration career but I graduated from a fashion design program and used to work as an assistant fashion designer." Kitty was a semi-finalist in the Eco-chic awards which aims to support young designers working sustainably and eco/ethical practice in the fashion industry. I try to live a sustainable life overall, I very rarely buy anything new preferring instead to DIY/rework things or shop thrift. I also started a small garden and compost on my rooftop this summer and I spend a lot of my time there, I love gardening it's so nurturing and helps me grow as a creative person."
Gaining this award giver her a real boost but rather than fire up her fashion it boosted her illustration passion: "After the Eco-chic competition I realized that I like drawing clothes much more than I like sewing them. So I started making more drawings and introducing myself as an illustrator and putting my work online. Eventually I got a commission to draw someone's portrait and I think that's when I started getting serious, when I realized that people would pay me to do this." Kitty's style is loose and expressive which belies the intense process that each work requires: "I do lots and lots of drafts for each piece and then I lay the best ones on my light table and trace out the final version on watercolour paper and then colour usually with watercolour or gouache. Then I scan them and fix them up on Photoshop."
For Kitty drawing is not so much an occupation as a compulsion and passion: "I love to draw anything really. But especially pretty girls, fashion objects and clothing with retro patterns. I love drawing and making things, I doodle everywhere and try to do live sketching whenever I'm sitting down in public. Whenever I see something beautiful I just have to draw it, from shoes I see in a shop window or the trees I pass by while riding the bus there are so many beautiful moments in our lives and drawing them is a way to relive them all for me. For inspiration I love looking at artist, both fashion and art. There's usually spontaneity, irreverence and delight to all the art that I really admire, currently they're from Richard Haines, Cy Twombly, Henri Matisse."
On her blog you will find posts about the state of her guache palette along side witty anecdote and notes about the drawing media she uses as well as the finished drawings, which for a fellow artist is really fascinating, laying bare the whole creative process: "My favourite tools are always changing and I love experimenting with new ones, shopping for new art supplies always gives me inspiration for my work. My staples these days are pencil and watered down gouache I love its flat semi opaque quality."
There seems to be a trend away from the super slick-super re-touched images of the past 20 years, and a embracing of illustration: "Not only hand-drawn illustrations but also hand-drawn type, anything where it's really evident that someone had to physically touch and create it fascinates me. I think the hand drawn image fascinates us now because there are so much less of it now, magazines used to commission tons and even signs at the corner store were hand painted. Combined with how we are indented with slick images all the time, super clean vector logos and even Word documents so I think it delights us to see something beautiful but imperfect."
One of the most fascinating series of drawings that she has undertaken is called "Shoes I will never wear", of course its not really about shoes, it's a very personal emotional journey, with overtones of the confessional drawings by Tracy Emin, the shoes are souvenirs provoking pangs of melancholic remembrance: "Those ones were different from what I usually do, very personal so I felt nervous putting them online. I made that series because I wanted to do some sketching from life and my legs were the only things that I could draw easily without looking into a mirror. And I tried on some shoes I had sitting in my closet and started to realise that each pair has their own stories in regards to how I was feeling when I bought them."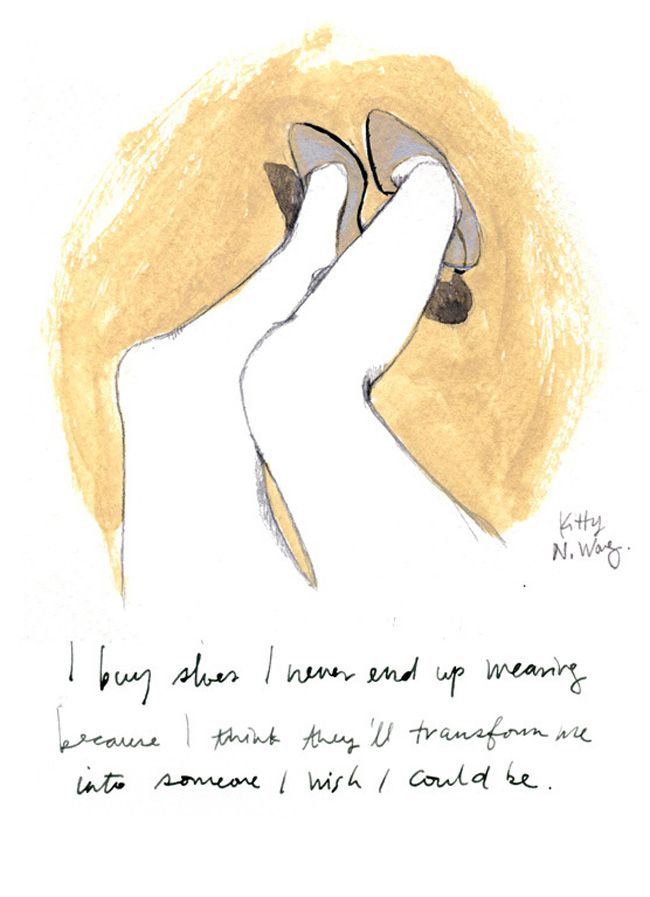 Kitty has begun her own range of designs which can be bought from her website directly: "The tees and stuff is from my print shop on Society6.com so people who liked my work can buy prints and they have options for lots of other products so I decided to try it out. The iPhone cases have been really popular." You can find more of Kitty's work at her section of Society6.com.
comments powered by

Disqus
x
Email Post
You can email the Post below to a friend. Simply fill in the form and click send.
Post name: