FASHION fox
is a British fashion blog run by women's fashion insiders based in London.
With hot fashion tips, styling, fashion and beauty advice Fashion Fox takes you on an adventure in fashion.
The 80s were messy, beautifully messy, grubbythe yuppies might have been partying in their double breasted suits but London was like all cities covered in a thick black layer of grime, art, music and fashion all collided in the sub-terreanean world of soho clubland. BodyMap's stark black and white prints and oversized loose forms imprinted on our fashion psyche, they might have closed their doors but our craving to see their work means they have continued to bow for our clamouring encores. BodyMap is one of the labels that will be showing at the V&A's Club to Catwalk exhibition opening tomorrow. I was lucky enough ot interview David Holah one of the founders of BodyMap to hear the Bodymap story in his own words:
Stevie Stewart and David Holah in the early days of BodyMap
"Originally it all started while we were at college designing and making clothes for ourselves and our friends to wear out to clubs, the blitz club at that time, as fashion students it was all about looking good and dressing up to the max and making an impression an d looking unique and original."
"By the second year of college I was selling my chemise dress and accessories in Kensington market and PX and also in Susanne Barstch's shop in NYC. Stevie was also making and selling deconstructed flax canvas jackets and trousers. We were encouraged to go to Italy and Paris respectively to work in the big fashion houses when we graduated, but we decided to return to our beloved London and try and make a difference here."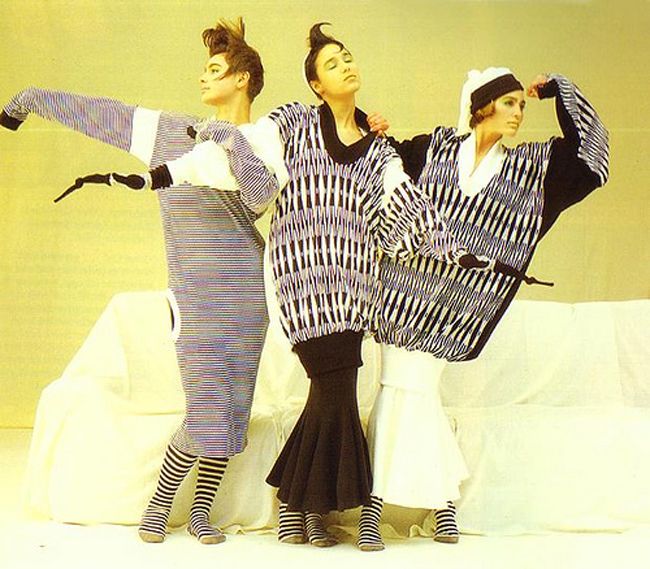 Archetypal BodyMap oversized tops and hobble skirts in monochrome
"We were inventors at a time when fashion had become rather dull we wanted to push the boundaries and revolution had been a part of cultural development as young Punk Rockers so we wanted to mix things up and use and discover new technological fabrics and the prints Hilde Smith that designed. We were always inventing and we don't work by traditional methods we invented our own style and way of dressing layering big shapes and over proportioned tops over figure hugging bottom silhouettes and the graphic prints changed the look of fashion and the way people were dressing in the 80's. We worked closely with a sportswear company in Sweden and experimented with high quality cotton and viscose fabrics we pioneered viscose lycra which at he time was brand new. We were very ahead of our time!"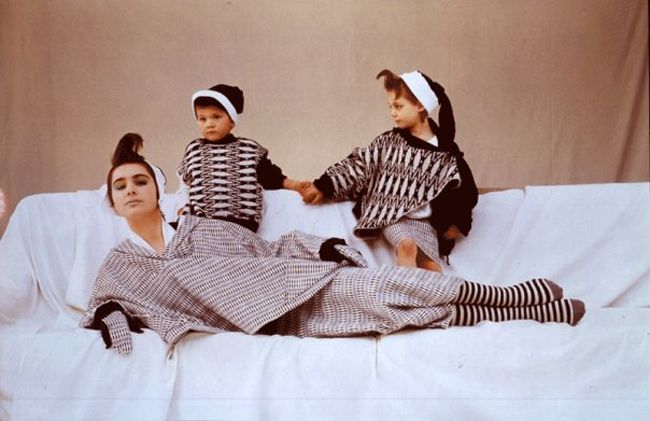 BodyMap for all the Nuclear Family
"Stevie and I had a unique way of working together batting ideas off each other and coming up with new techniques to cut patterns and construct garments that would often evolve simply from bending the rules and standing traditional methods on their head looking at things for a different perspective"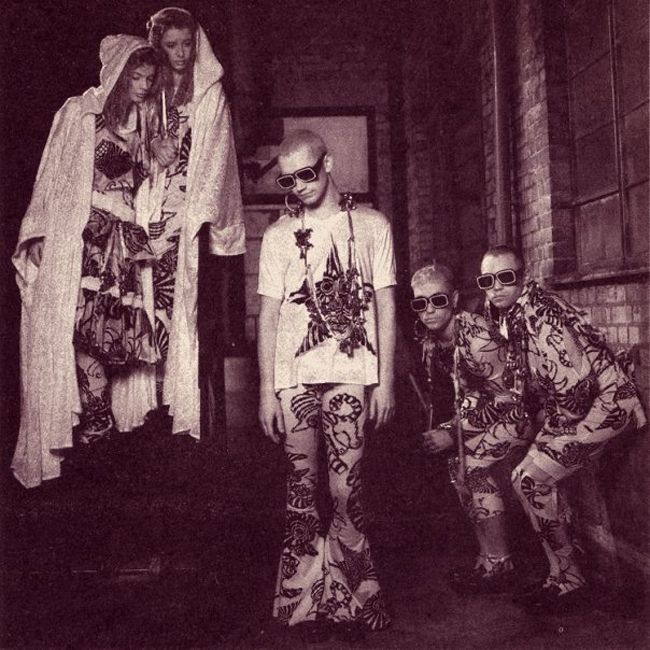 BodyMap frequently collaborated with Michael Clarke Dance Company
"It was a time of change on all levels in fashion, art, film, dance and music our contemporaries were al part of the revolution Boy George had started Culture Club John Maybury and Cerith Wyn Evans were inspirational up coming film makers and the young Michael Clark was the 'enfant terrible' of Dance. We were all friends and all worked together on collaborations and the mediums crossed over and linked together. BodyMap started making costume for Michael Clark and Co in the early 80s and Stevie Stewart is still making amazing Costumes for the company to this day."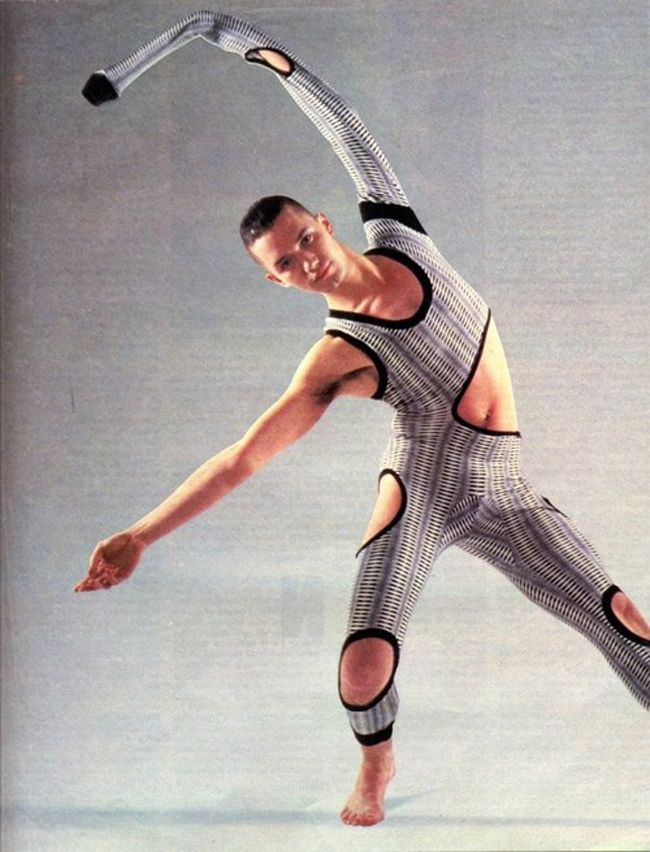 Groundbreaking choreographer Michael Clark in BodyMap
"Our Fashion Shows were the hottest ticket in town. Every one wanted to come they were spectacular and unique they were like art performances.We tried to involve our friends and Family as much as possible and we created a BodyMap Family of models of all shapes sizes and ages, Stevie's glamorous mum, Sue was in every show we did as was my Niece Nico who started modelling at the age of six. and my little brother Eric, The BodyMap family also included Boy George Michael Clark John Maybury Anna Drummond Amanda Cazalet Lesley Winer, Susie Bic Lizzie Tear Barry and Nick Kamen to name a few."
"We always showed with the fashion week committee and showed in the tents along side all the other designers the show were usually scheduled at he end of the day as the crowds were big and it was a huge operation to devise and co ordinate, depending on what we were doing for each collection, for our s/s 85 collection Isa Comet a Star a Moon a Sun aura Racoon show we had to install a laser light show into the tent as part of the elaborate highly choreographed show so the it was a big undertaking to get the shows organised. In order to show our clothes in this unique way it was a massive Labour of Love."
David describes the treasures from his fashion journey:"Initially meeting Stevie at college and becoming great friends and being able to go on to make such a great and iconic fashion label also being able to travel and work creatively in New York, Tokyo, and In Italy with the Genius Group and Fiorucci. Also producing our amazing fashion shows and I'm very proud to have been a part of Fashion Aid. The nicest thing of all was having the chance to meet the most wonderful people that now make up the extended family and history of BodyMap."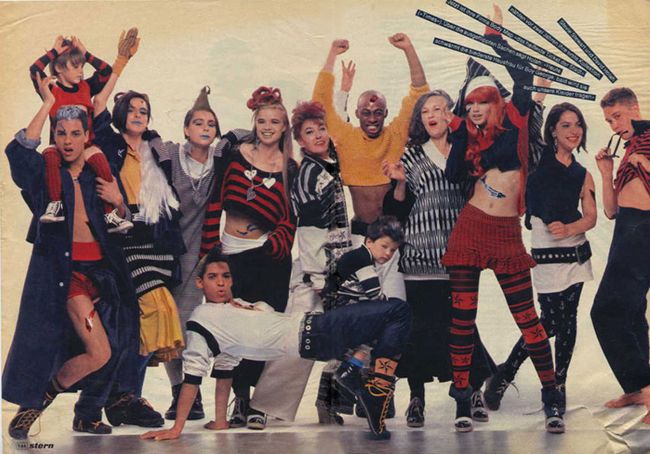 Bodymap as seen in German magazine Stern in 1980s
On taking part in the V&A Club to Catwalk show David says: "It has been wonderful to re-connect with our BodyMap past and revisit an important part of our lives and great that people still have such an interest in what we did back then and to realise how relevant BodyMap is even in the Changed landscape of Fashion today"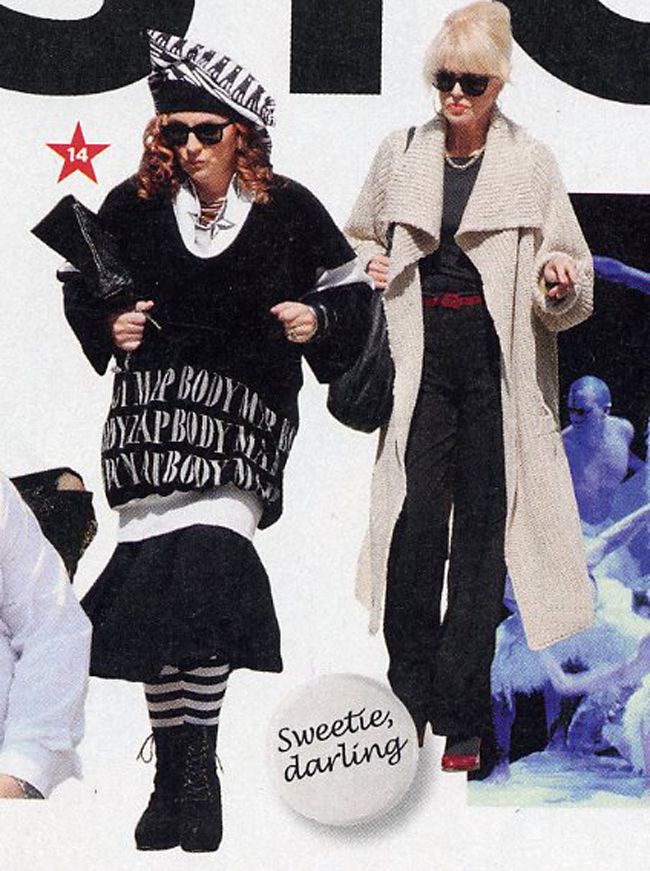 Edina Monsoon wearing BodyMap in Absolutely Fabulous: Keep up Pats!
"BodyMap takes its rightful place in fashion history Stevie and I pioneered a new way of dressing in the 80s and made our Mark as innovative designers at that time. It does feel quite strange to think we were so ahead of time and the clothes we made all those years ago are still so relevant today and the whole thing about having this retrospective is a reflection on Time, which seem to have gone by far too quickly."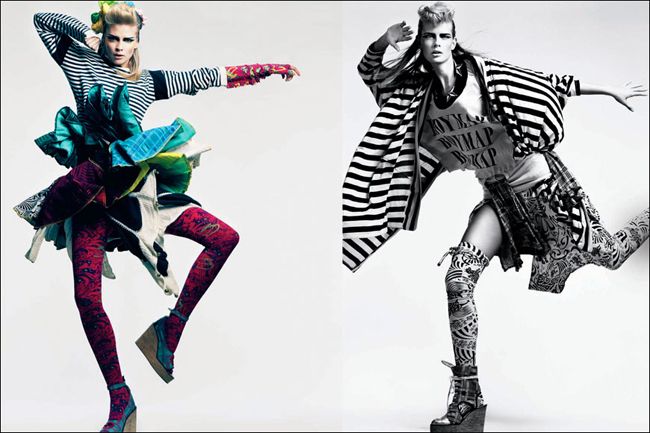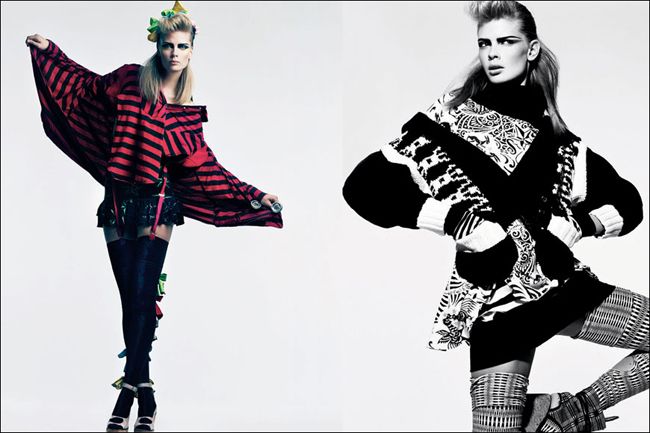 BodyMap as re-imagined with contemporary styling for VMagazine
Since Bodymap David Holah has explore new creative paths and still works with his original collaborator Stevie Stewart.
"I changed Direction in 2006 and went back to study at Camberwell college of Art and obtained an M A in printmaking since then I have been concentrating on my Art Practice which combines Fashion and Printmaking at the moment I am leading a; Print Haute Couture Style course at Slaughterhaus print Studios in Stockwell.
"Stevie and I still work to together on projects, she designs and makes amazing costumes. Her clients include; Michael Clark, Russell Maliphant, Ballet Rambert, Kylie Minogue, Cheryl Cole, Girls Aloud and Leona Lewis. Stevie and I have re-made and remodeled a wonderful commemorative classic BodyMap T- shirt, especially for the exhibition at the Victoria and Albert Museum, it will be available for sale in the museum shop and also from info@bodymap.info "
"I am working towards a show coming soon, in November at the Bluecoat Gallery in Liverpool. Which will be called 'The World of David Holah' this will include my art prints. A fashion Show of mine and Stevie's Vintage BodyMap Archive. Choreographed by Les Child. Jeffrey Hinton will also host a talk about Club and Fashion of the 80's with amazing 80's film footage and photos from his own archive. In the near future Stevie and I are looking to produce a BodyMap book and have our own retrospective exhibition of our Body Map Archive somewhere in London."
You can see the work of David Holah and Stevie Stewart at the V&A from today until February 16th 2014 as part of the Club to Catwalk exhibition.
comments powered by

Disqus
x
Email Post
You can email the Post below to a friend. Simply fill in the form and click send.
Post name: